As approved Project EV installers, PM Electrical specialise in fitting electric vehicle (EV) charge points in a range of domestic environments. Our engineers hold City & Guilds 2919-01EV charge point installer qualifications equipping us with the skills and certification required for all types of EV installation.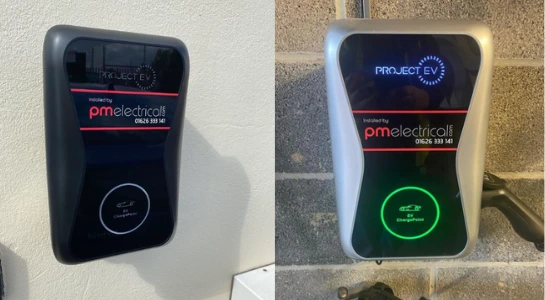 DOMESTIC EV CHARGE POINT INSTALLATION
Electric vehicle home charging installations makes charging convenient, safe, and quick to use. All of our units use smart technology allowing you to access intelligent charge scheduling that uses affordable off-peak energy rates. They also offer remote monitoring, updates, and information from energy suppliers for efficient charging, and can be used in conjunction with existing solar installations. While public charging is available in the UK, being able to charge your EV at home can save you time and money and even increase the value of your home. Our company is NICEIC registered, enabling us to install a wide range of EV charging solutions at your home, smoothly and professionally and offer expert advice on permissions required for chargers and the best location for them at your address.
Want To Learn more About Home EV Charging?
Get Your Free Quote
Get your free, no obligation quote or just some friendly advice today!

You can call us on 01626 333 141 and our friendly staff will be happy to help. No jobs are too big, so please don't hesitate to get in touch.

Fill in the quick request form and we will be happy to help you.
Feedback from Our Customers
Latest Reviews
A big thank you to Phil and Connor at PM Electrical who have just completed all the electrical works for a holiday cottage renovation in Strete which is now very much future proofed and modern.

We had full electrical works completed including rewiring, sockets, dimmable lights, air vents, indoor and outdoor lights, fireplace lights and more recently an EV charger installed.
Can't thank Phil and Conner enough! They did a great job at a reasonable price fitting my EV charger. They are very professional and their work is top quality. I highly recommend their services. I had several quotes but it was the fact that when Phil came to look at the job it was obvious he really knew his stuff where others I had quotes from didn't ! Phil helped sort out the paperwork needed to have it fitted too. Conner was great at helping me sort out the charging APP Thanks guys.
Phil came out and checked everything over and a date was booked for an EV charger. Connor turned up on the day and did a great job. Very professional, super quick and he even tidied up after himself which is always a nice bonus. If you are looking for a great local firm who will do a top job then they are highly recommended.
First time we've used this company as we had an EV charger fitted. What a joy to get service like this. Nothing was too much trouble and the electrician didn't leave until we were conversant with everything. Will be using and referring this company again. Thanks for everything.
Great team. Completed a tricky yet sympathetic EV charger installation in a barn conversion. Minimal disruption and a tidy finish, despite 1m thick stone walls, the consumer unit being on the opposite side of the building and the charger location being 30m from the house.
Really pleased with the outcome.
Excellent work done installing my EV charge point at home. Great customer service too. *****
Based in South Devon
Covering