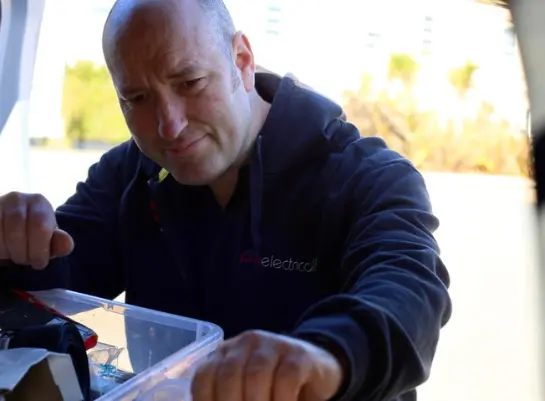 PM Electrical can help you with a wide range of commercial electrical services, including:
Electrical Installation

Inspections & Wiring Tests

Maintenance & Repairs

LED Lighting
Commercial EV Charging

EICR Reports

Rewiring

USB Power Points
Looking for specialist commercial electrical services? Request your free quote today! We can provide quotes on any of our services, including electrical inspections, maintenance & more. Simply fill out a few details in the form provided & a member of our team will be in touch.
Feedback from Our Clients
Latest Reviews
Thank you to Phil and his team (Connor and Kieran) - super neat job installing our new ProjectEV car charger at Saltstone, our holiday rental property at Island Place, Salcombe. Very professional approach to the whole job. Would highly recommend their services.
A big thank you to Phil and Connor at PM Electrical who have just completed all the electrical works for a holiday cottage renovation in Strete which is now very much future proofed and modern.
Phil and Connor both work very diligently and professionally, their expertise and consultation has been a big part of this successful renovation.
The team at PM Electrical are all friendly and knowledgeable, Connor who did our install was helpful and worked to limit the disturbance to our business whilst being thorough, he talked through the app and how to use the charger.
We would highly recommend the team so if you're thinking of having a car charger installed they are definitely worth speaking too.
Thank you Millie, Phil & Connor
Can't thank Phil and Conner enough! They did a great job at a reasonable price fitting my EV charger. They are very professional and their work is top quality. I highly recommend their services. I had several quotes but it was the fact that when Phil came to look at the job it was obvious he really knew his stuff where others I had quotes from didn't ! Phil helped sort out the paperwork needed to have it fitted too. Conner was great at helping me sort out the charging APP Thanks guys.
Phil came out and checked everything over and a date was booked for an EV charger. Connor turned up on the day and did a great job. Very professional, super quick and he even tidied up after himself which is always a nice bonus. If you are looking for a great local firm who will do a top job then they are highly recommended.
Really good local electricians. Friendly & polite, and do a great job at a reasonable price.
Came when they said they would, and everything left clean & tidy.
Would definitely recommend.
First time we've used this company as we had an EV charger fitted. What a joy to get service like this. Nothing was too much trouble and the electrician didn't leave until we were conversant with everything. Will be using and referring this company again. Thanks for everything.
Great service by P M Electrical (SW) Ltd. Initial job was to install an outside socket. Very clean job, on time and for a reasonable price. Phil also carried out a fault finding exercise which will result in further work for the firm. I wholeheartedly recommend this company.
Great team. Completed a tricky yet sympathetic EV charger installation in a barn conversion. Minimal disruption and a tidy finish, despite 1m thick stone walls, the consumer unit being on the opposite side of the building and the charger location being 30m from the house. Really pleased with the outcome.
PM Electrical Conner has completed work at our home, new double sockets, outside light, loft light and installing new ceiling lights. Conner has completed the work to a high standard of finish, he was polite, friendly and answered all the questions we had. He was professional and made very little mess and no redecorating required. Would definitely recommend and use Conner again in the future.
PM Electrical are very professional in everything they do. The produce a very high standard of workmanship, using quality products and with a smart and tidy finish. Both Phil and Conner are friendly and reliable, appearing at very short notice to fix things for us which we really appreciate! They have completed a range of excellent work throughout the renovation of our house and I trust them completely with any electrical work we require!
Connor from PM Electrical fitted new spotlights in my kitchen and new sockets Inc tv sockets in the bedrooms. He was friendly, professional and very courteous, even going the extra mile and putting the tv's and brackets up on the wall for me. The work carried out is great; I love the new kitchen lights and wouldn't hesitate  to recommend PM Electrical.
Excellent service and work from Connor. All jobs were completed to a high standard. I'd highly recommend PM Electrical and they'll definitely be my first call for any future works I need carrying out. Thanks Phil and Connor
Thank you for your services today. Arrived quickly, really helpful, very professional and sorted an electrical issue for me after a DIY disaster! Would highly recommend to anyone who needs a reliable electrician.
Interested in my problem and looked into regulations applying to my old house. Prompt attendance and did a great job. I've booked Phil for more work and would recommend.
Based in South Devon
Covering